Polymer Clay Magnet Alternative Project Idea Included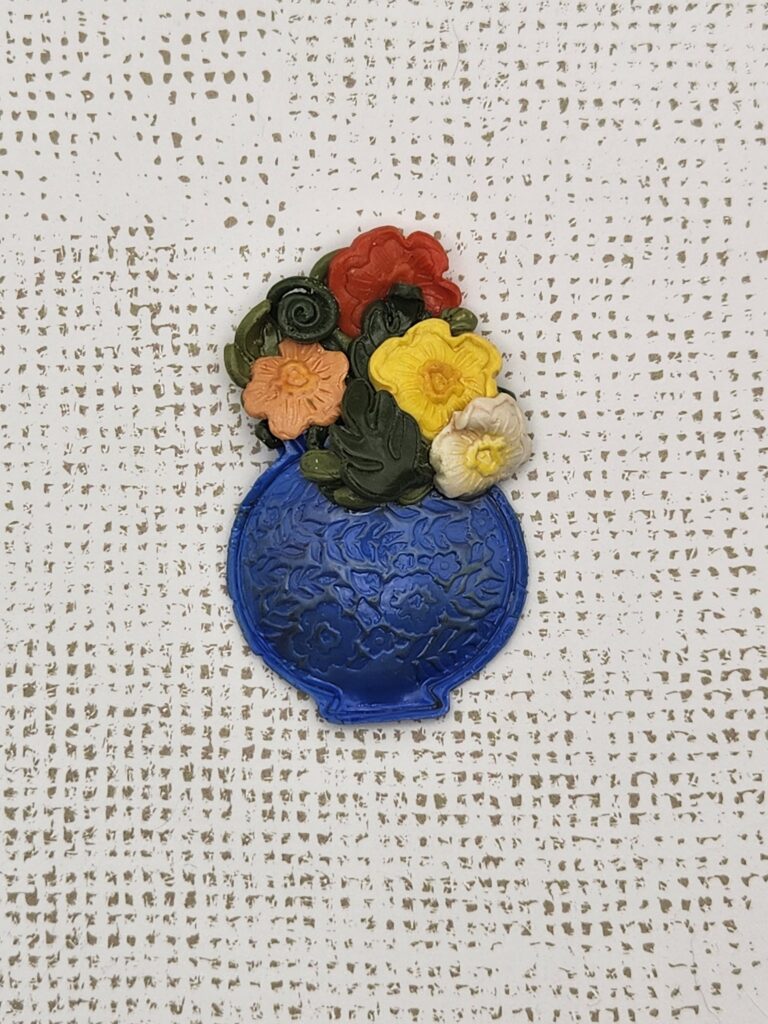 The Welcome Inn Paper Pumpkin subscription box from June 2023 was adorable. It reminded me of ginger jars and calico. It was a versatile botanical set with an optional die add-on. Something about this set just said "housewarming" or "real estate' to me.
While I was impressed with the set, I was sort of in a phase with polymer clay when it was released. I had an idea to use the optional die add-on as a baking tool instead of as a paper cutter.
Since most dies are steel (including this one) it could be baked in an oven and used to hold the shape of the clay while the polymerization process took place in the oven. I use a toaster oven. I bake for 30 minutes at 275 degrees Farenheit so the steel would definitely be safe throughout the baking cycle.
Once the clay cools its easy to turn creations into magnets. This clay would also make great jewelry (and that's the application you most commonly see it used). My concept seemed a little bulky for earrings but a brooch or pendant could work fine for this design.
There are a few tools from Stampin' Up that can do double-duty in other applications. Here are the items that could be used during the creative process (but not baked):
Acrylic Blocks – I use a Paper Pumpkin acrylic block in my instructional video to smoosh clay, but any acrylic block could easily be used during the sculpting process to create uniform canes (i.e. snakes) and while forming small pieces.
Take Your Pick Tool – especially since the new attachments have been introduced (a blade specifically), the interchangeable tips for the tool can be used in a variety of sculpting applications.
Stamps – stamping into the clay then baking will make an indelible mark that will last as long as your creation does. Wash over the imprint with acrylic paint or chalk pastels to accentuate.
Chalk Pastels – grating or whittling the pastels by Stampin' Up will give you an easy way to tint clay before or after baking. I prefer to brush on clay before baking then sealing with a compatible glaze.
Gilded Leafing – Believe it or not, the foil leafing that Stampin' Up sells can be used with polymer clay before and after baking.
Embossing Powders – Folding embossing powders into polymer clay can alter the texture of the clay. Create stone textures and more when folding embossing powders into the clay.
Embellishments – definitely not for use before baking- embellishments can be affixed with glue.
Baking with Dies
Obviously there are limits to the temperatures the steel dies can handle. And I haven't done a lot of research about how my Stampin' Up dies would be affected in the long term being used this way. So, if you try this technique, proceed with caution as this technique is likely outside their warranted applications and may affect their future effectiveness with paper.
I created a video of my magnet project pictured above. I hope you will go and check it out.
My name is Carrie B. I am a Stampin' Up Demonstrator and I earn comissions by selling products I like through links on my website. This article included.