Sometimes "All-In-One" Dollhouse Kits Need a Little Help!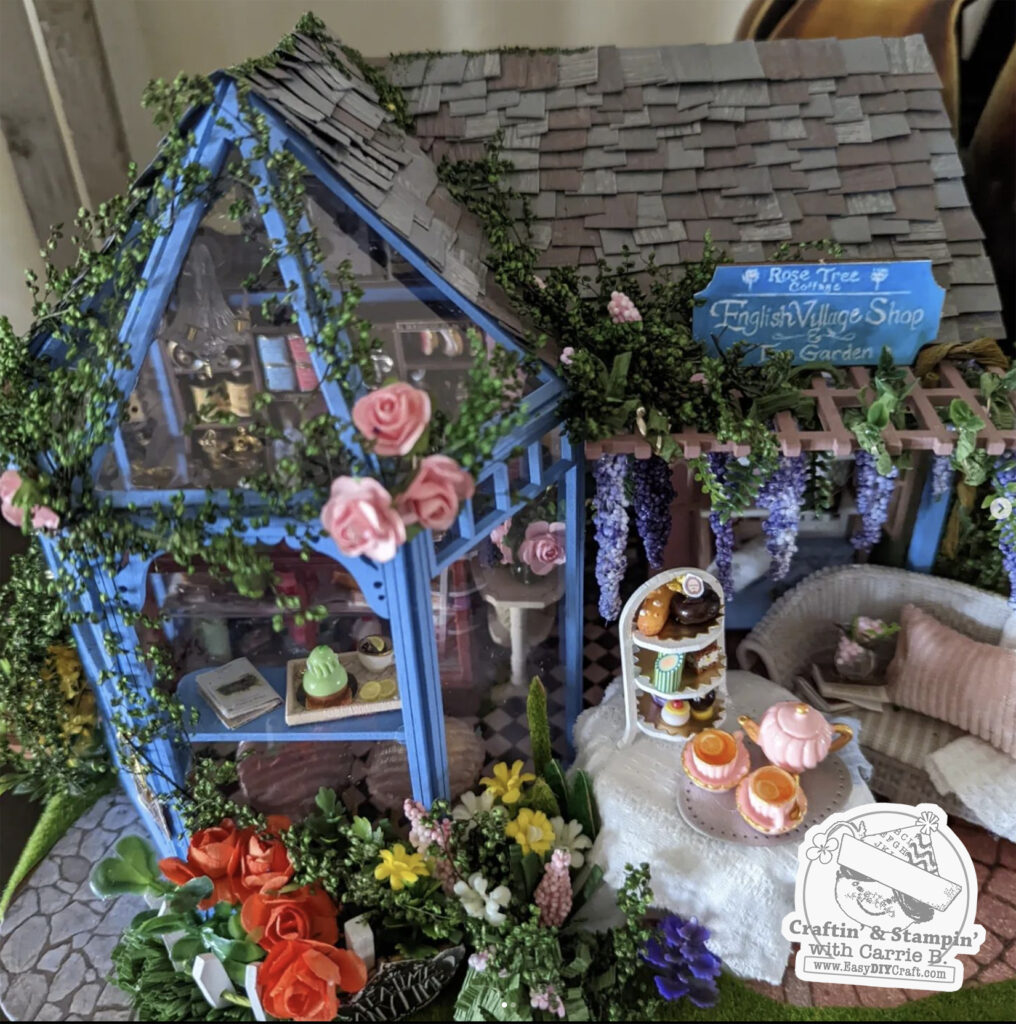 I recently completed a dollhouse kit that has all the components included to make a cute nightlight/musicbox diorama.
Is Everything Really Included?
Some of the components like the cakes and tea sets were resin miniatures that came in the box. Most of the building components need to be assembled using glue (not. usually included). While I find these kits to be easy to make with what is included, there are times I find I need to fix flubs like gaps or embellish things a little further.
Handle with Care
I use tweezers and my "Take Your Pick" tool a lot in the construction of these projects. The tiny pieces get knocked over easily and are lightweight so that the slightest string of hot glue can topple a whole vignette I've been working on. As a rule, I make little trays, saucers and doilies using my Stampin' Up die cutting supplies and attach things like tea services, cakes and small canisters to them before placing in their permanent home. This allows me to move scenes around all at once and keeps them from falling all over the place as I add items near them.
My Miniatures Stampin' Up Supply List
Though Stampin' Up markets itself as a card-making supplier, a lot of the products can do double-duty for miniatures. I used a lot of different Stampin' Up supplies for my project to help give it the finished look I wanted. Here's an inventory of things I used on the tea house shown (and the shopping list for them is here):
Basic Gray Cardstock – I used it for the roof shingles. Stampin' Up's cardstock is a nice weight, acid-free and has a texture to it that is very pleasant to handle. It cuts and takes a multitude of inks, paints and markers well. I embossed Basic Gray with a wood texture folder and then distressed it using Blender Brushes.
Metallic Vellums and Cardstock – Awesome for trays and plates. Lightweight yet sturdy. Won't warp when glue is applied. Cuts in a die cutting machine easily.
Die Cutting Machine with Embossing Folders & Dies – If you don't already have a die-cutting machine you should be asking yourself "why not". Many card-making dies that cut circles, ovals and rectangles will give a clean, polished edge to your pieces. Sure, you can cut by hand but, the pillowy precision these small scale projects require is really enhanced by die cutting. Embossing folders like wood grain, stone or brick will imbue the cardstock with a 3D texture that is awesome for floors, ceilings, walls, exteriors and roofs.
Fine-Tip Glue Pen – I can't say enough good things about this product. It dries totally clear and rubbery. Perfect for embedding small things like the lemon slices in the tea cups. You can dye it with Stampin' Inks. The flow is perfection. The downside is that it does take a little longer to dry but, I used to on acetate film, resin and wood to great success. There is no odor and it is a nice substitute for UV resin or other viscous clear glues.
Embellishments – that's what Stampin' Up calls them. Small afterthoughts like: flowers, butterflies, 'matte dots' and sequins. Because they're designed for cards there super lightweight and tiny. I used matte dots as tray feet and bon-bons. Brass butterflies give a little sparkle to foliage. Small plastic flowers can be added to shrubs.
Stampin' Up isn't Just for Cardmaking
The way I shop for supplies for my craft room is to browse and select things based on how many uses I can get out of it. If you already enjoy miniatures, you'll be happy to know these supplies work well on tags, cards and gift items like bags and boxes. Cute, lightweight & tiny, there are many ways a crafty artistic person can find to use these supplies. I hope you will share with me your projects on social media. Find all the places I hang out here. Let's keep in touch!