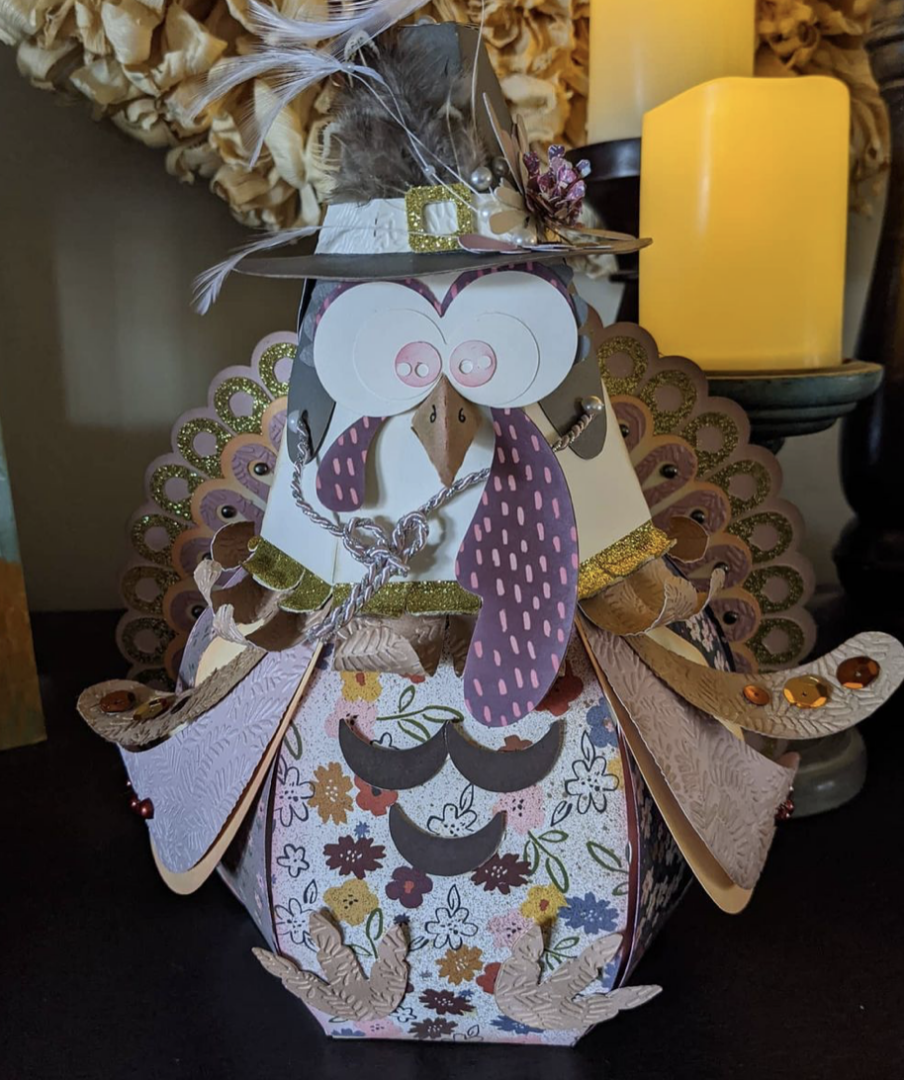 Turn your Stampin' Up Designer Series Paper 3D paper Sculptures
What Cutting Machine To Use?
For electronic cutting machines I recommend Cricut for cutting Stampin' Up papers. Paper sculptures made with a Cricut machine make stunning gifts, door prizes and centerpieces. In order to access the best patterns I use a Cricut Premium Access Membership. A premium access membership gives fonts and craft patterns. (Not to mention access to a community of makers doing innovative things to create awesome gifts and more). The Cricut machines have interchangeable blades for different purposes. I have cut both paper and fabric, engraved metal and scored paper to make a variety of gifts. Cricut is perfect for the hobbyist and has regular software updates, great customer service and a fantastic community to lean on in when the need arises for inspiration or help. I feature some of my past creations on my 'Cards & Customs' page.
Paper Sculpture SVG Patterns
Why I Use Dreaming Tree
A more intricate paper 3D Paper Sculpture with Stampin' Up Papers like the turkey project I did in the photo requires the use of a quality SVG file like Dreaming Tree that is downloaded onto my computer. Then, I upload it into my Cricut application. The score and cut lines are separate layers. Linking them together using the 'Attach' command fixes them. (Otherwise they will not align properly). Then, I am able to go layer by layer to create each piece. Founder of Dreaming Tree, Leo Kowal, and his team create new projects all the time. For the holidays, Dreaming Tree patterns are a must have because their tutorials, customer service and high quality designs are so easy to use. The designs are rigorously tested by a team of designers. Nothing is left to chance before it is delivered to the end user and new designs are released regularly.
Why Stampin' Up Papers Are The Best Choice For Paper Sculptures
The correct paper is vital to success in these projects.
Why 3D Paper Sculpture with Stampin' Up Papers? Because the thickness and weight of the paper is crucial. Cheap, flimsy papers will not work. I use Designer Series Paper and Cardstock from Stampin' Up with my Cricut and Dreaming Tree files. It cuts easily, stands up to rigorous treatment. Because of this, the finished projects hold their form well. (Even when treated with inks, watercolor paints, blending brushes and embellishments). The paper is acid free and, as a result, will bring years of enjoyment to the recipient. The colors and designs of the papers are original. The community of Stampin' Up makers is second-to-none. A worldwide network of people communicate together for minute-by-minute fun and feedback. I love the online events I attend with Stampin' Up as a company and never feel lost for what my next project will be.
I'm Carrie B. and I'm here to show you what's new with Stampin' Up and how to use it. I'm an Independent Distributor for Stampin' Up. Shop with me here.